Hello,
I just finished an initiation embroidery class and it made me discover my new passion. I quickly understood that this will be a hobby which will take a huge part of my time in the future. I discovered your Monfil site when I was shopping for SuperB thread. I had used this thread a few times in the past and I have to admit that I adore this thread and it adds has a nice touch of shine to all my projects. Furthermore, the entire web site is interesting, you have a wide variety of products and the prices are incredible.
I wish a long life to Monfil.ca. Thanks for the overall product selection and the excellent quality service you provide to passionate home sewers.
You can publish my comments on your web site because when I read other comments, it made me want to fill my shopping cart without hesitations and to write you shortly after.
Lucie Vaux, Gatineau, Quebec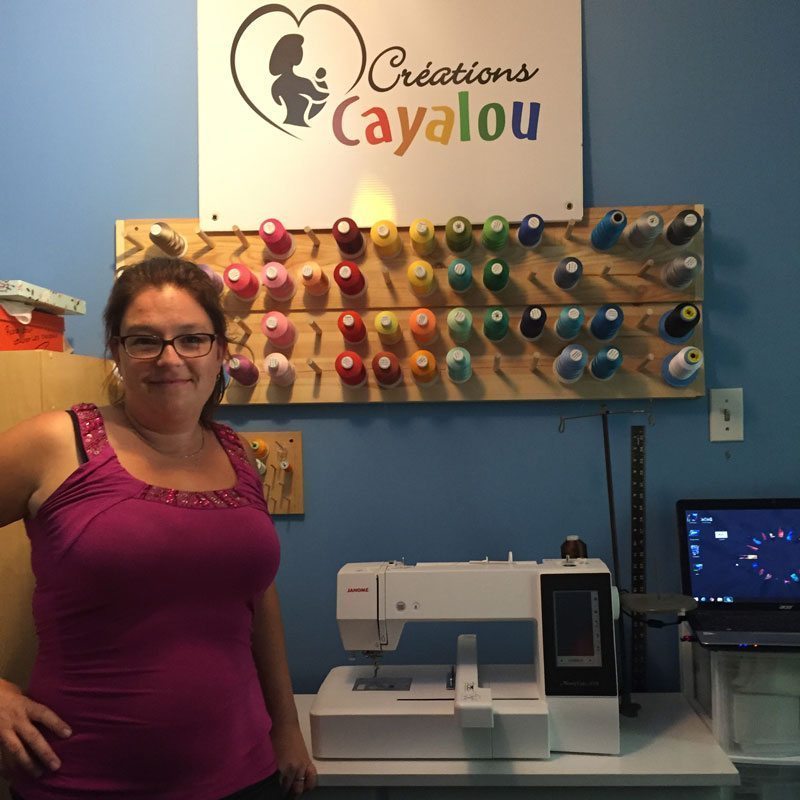 Hello, my name is Nancy and I am the owner of Creations Cayalou since 2011.  I simply adore the products from Monfil.ca, a nice variety, very well priced and incredible service!!!
I had fun in doing a test with the SuperB thread last night because I was talking to a friend of mine about the quality and prices of this thread, so I tested it in javex water because we do children clothing.  She was skeptical and told me to watch it.  So here it is, the world renowned Madeira thread at twice the price versus SuperB, soaked in javex for 2 hours, both came out fine, the grey is SuperB and the blue is Madeira.
Thank you Monfil.ca !
Nancy Bouchard – Créations Cayalou – Dalmas, Qc 
I recently acquired a Brother home domestic machine.  Recommended by a friend of mine, I bought all my stabilizers and supplies from Monfil.ca.  I adore their products and I will not hesitate to recommend them to others.  All products are excellent quality and the service is super fast and friendly.  On top of it all, there are plenty of new quilting and sewing products available.  Thank you Monfil.ca
Juliette Pelletier – Lévis, Qc
I am an avid customer of Monfil.ca.  I am so happy to have found this web site at low prices while offering high quality products.
I live in BC and around here, there are not many stores around and when they are some, prices are high and I an not find what I am looking for.  That is when I discovered Monfil.ca.
I ordered the Eau Gone stabilizer and it was magic.  It works so well on free standing lace and lingerie, and all at a low price.
I also ordered the 1.8 oz soft white tear and it works like a charm.  I only use 1 layer as opposed to 2 layers from other brands.  On top of this, when I finish my embroidery, there is no residu left, it tears easily.  Fantastic!
The SuperB thread is high quality.  It is 100% polyester with a wonderful shine and does not break on my machine.  Now that I have found my supplier with low prices and top quality products, what more can you ask?
Thanks Monfil.ca
Doris Girard – Keremeos, BC
On a side note I love your stabilizers and threads, the quality of your products is amazing at the prices they are sold for. As for your thread colors I love how vibrant they are I had stitched out a design that had a red in it, on a red piece of fabric, (almost kicked my self because usually red on red is a big no no) but the red still pops out and I am so happy with the result. I am already looking forward to purchasing more (will be at end of month when funds come in again) I am already planning out my order and getting excited to grow my "Super Stash", that is what I am calling my "stash" of Monfil.ca products.
Well I must be off now I have to get this stitch out completed before the Water soluble dries out, yes I know that rule well.
Hope you are well
Mary Warrington – Wheatley, Ontario
Hello Monfil.ca
I am a passionate sewer and embroiderer and like many of you, I have searched on the internet for supplies.  Then I found Monfil.ca and everything I needed was right there.  I have been ordering supplies from Monfil.ca for 4 years now and I have to admit that the SuperB thread is super shiny and vibrant.
I love the fact that we can buy small quantities, thank you for thinking of us!  The service is fast and fun.  I feel important when I speak to you on the phone, we feel like humans and not a number.  You take time to explain the products and Monfil.ca is now my no 1 supplier!
Thank you Monfil.ca !
Diane Beaudoin – Zazouley – Drummondville Qc
Last spring, I bought a home embroidery machine and I was was looking around web sites to find supplies.  After a few bad purchases on Amazon, I happily found www.monfil.ca !
Then I purchased the start up kit which looked like an incredible deal!  It allowed me to test out many products and also to notice monfil.ca's overall excellent quality.
Let's not forget the customer service: we all love to be served like kings and queens, don't we?  Well, this is exactly the experience waiting for you at monfil.ca !
It is with pleasure that I will continue to purchase all my supplies at monfil.ca !  I will be a loyal customer and long life to your beautiful web site!  It is easy to use, intuitive and fun.
Thank you for everything and long life to monfil.ca !
Diane Pouliot – fil-en-ciel, Québec, QC
Hi my name is Michelle and I have known the Monfil.ca team and their terrific products for seven years now.  I found "Superpunch" on line back then ( and now Monfil.ca too) and it has been my embroidery resource since I began this passion.  Three years ago I made the best investment ever and purchased the "Happy" embroidery machine.  I LOVE it and it's ability to produce large designs with beautiful stitching accuracy and speed.  This is my retirement pastime and passion and I couldn't be happier with all the products Monfil.ca offers.  I have recommended them to many over the years  who are now satisfied customers as well. Long life to Monfil.ca and thank you.
Michelle Morais – St-Jean sur Richelieu, Qc
Hi,
I've been a client of Superpunch and now Monfil.ca ever since I bought my
embroidery machine last year and I'm happy to provide a testimonial to the
quality of the products and the excellent service.
My business is called Sew Crazy and I work from my home in Ottawa, ON.
I started off with the 50 pack of Super B thread to have a variety of colors
to start. I also bought a variety of stabilizers and prewound bobbins to
make my life easier. I've loved all the products (the prices!) and the fact
that I can easily order online and the box shows up at my door a few days
later!
I've also found their online digitizing services to be excellent. The
designs always stitch up beautifully and they are quick and affordable.
I highly recommend anyone starting or in machine embroidery to connect to
Monfil.ca!
Cheers,
Robin Whitford – Sewcrazyottawa.com – Ottawa, Ontario
Facebook.com/sewcrazy73
A beautiful project finished with Monfil.ca products!
I am quite happily surprised to notice the quality of the products ! And Wow ! At a super competitive price ! Funny now to admit that I use to pay so much more so much less, like 3 times more!
You are asking about delivery? 24 hours and the order was in my hands ! What service!
Monfil.ca and Superpunch are now my new suppliers for all my sewing and embroidery needs.
https://www.facebook.com/Unicorn-Woven-Textiles-1585294995096269/
Thank You !
Marie-Helene Nowlan – Unicorn Woven textiles – Sainte-Marthe-sur-le-Lac, Quebec
I just got my first home embroidery machine this Winter 2016 and getting set up I was looking for a place to buy supplies and my husband stumbled upon the Monfil website, super happy he did. The prices are great, there's a ton of selection of threads, stabilizers and regular sewing products too. I've had great customer service, Johnny and his team go above and beyond, if ever I have a question they are fast to respond and extremely knowlegable. I recommend them to everyone I know who sews and embroiders!
Stacey Palmer – Sweet Potato Pie Bridal Accessories – Douglas, NB