About Monfil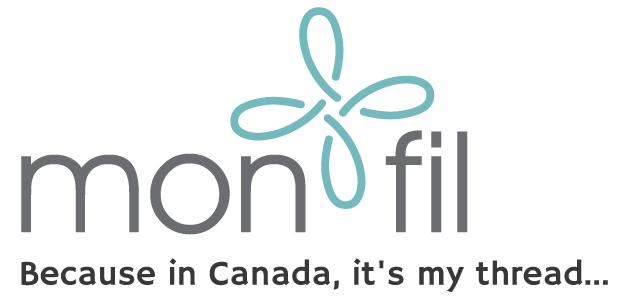 Our name may be new, but our quality products and quality service have been around a long time.
As a result of 20 years of Superpunch's service in digitizing logos and sales of top quality thread, stabilizer and embroidery supplies to our valued customers across Canada, we have expanded and in 2016, we opened an online store, Monfil, in order to cater to the home embroiderer/sewer/quilter's specific needs.
This journey began in 1996, with a mission to serve commercial embroiderers. In 2007 we evolved into an online store. Slowly but surely, home sewers, quilters and individuals who were embroidering from their homes as a part time hobby or a small business owners, approached Superpunch with questions and requests for smaller formats of thread, stabilizers and other embroidery products.  This demand led to the development of a brand new online store, Monfil.ca.
Initially, requests by Canadian commercial embroiders for big 5000 meter cones and huge rolls of stabilizers were the bulk of our  business, however, over time, we began to receive requests for 1000 meter cones and smaller formats of stabilizers which are better suited for the home artisan.  In addition, it became abundantly apparent that Monfil.ca made a lot of sense as the demand increased for products such as needles, lubricants, scissors, oil and other necessary sewing products. Both commercial and home based artisans are clients who have different needs, and even though they may sometimes use the same products, Superpunch decided to create two streams of products in order to cater to their specific individual requirements.
As time passed, the sewing world also knocked at our door with demands for a polyester thread and SuperSew was born in 2011. One sewing thread led to a few more related products and then along came many other quilting requests.  We quickly realized that one client of Monfil.ca can easily purchase any products from any one of the three big families, if not all three: embroidery, sewing and quilting. Customer service and quality products are our foundation. Monfil.ca is proud of the fact that our clients count. We listen to our clients' needs and we act quickly to serve you better.
Online Store:
Monfil.ca has a strong menu of products for purchase on our online store platform. One such product is Aurifil, the world leading 100% cotton quilting thread made in Italy. Monfil is a retailer of Aurifil threads, stocking and selling from our Canadian warehouse and therefore Aurifil can be shipped directly from Canada.  Top this off with a few quilting favorites, like the world renowned Hobbs batting products and we have a nice combination defined and uniquely designed for the home quilter/sewer.
From coast to coast, Canadians were craving for a local supplier where they can be served in both official national languages, use Canadian currency, and have their products shipped through Canada Post. All products are kept in stock in Granby, QC and are shipped daily, where we pay extra attention to details because we care about you.  We value our customers and our shipping manager likes to show this appreciation by adding samples and freebies.
An added bonus is that you can even buy products on both platforms (Superpunch and Monfil are in the same warehouse) and therefore you pay only 1 shipping cost. If you buy more than 100 dollars on Monfil.ca, then shipping is free across Canada for such orders over 100 dollars.
A Canadian business, Monfil…my thread…from our home to yours.
We hope to serve you soon and we hope you have a great experience shopping online on Monfil.ca.